Leadz® Customer Portal
Leadz® Customer Portal is a customizable and scalable dealer, sales and customer portal to strengthen your customer service and after sales activities. The Leadz® Customer Portal as a digital service platform ensures a noticeable relief of your sales and marketing teams, especially in daily communication, because customers can call up self-contained services. Thus, the customer portal leads to a greater systematization of processes, e.g. in the provision of information, media or in the reordering of products. Your customers get more services and you still have less work.
The adaptation artist
A major advantage is the scalability of the Leadz ® Customer Portal. Through the employee and customer-related output of information and language via rights and role assignment, the Leadz® Customer Portal is able to map any customer structure. Whether international corporation or medium-sized enterprise with a regional character – the Leadz ® Customer Portal is the adaptation artist among the customer portals.
Key features
Database-based data, information management and output
Multi-client capability with rights-based information output
Custom and global content integration
Multilingualism
Integration of Leadz® Sales Communicator
Benefits
Increased customer care
Increased after sales
Increased image and quality perception
More effective customer and dealer support
Resource-saving through digital provision of media and information
Henkel Premium Partner Portal
Global dealer portal
Description
By using the Leadz® Customer Portal, Henkel has provided its industrial partners and dealers with a high-performance portal. From retailer customization of product brochures to the placement of eLearning units or the joint dispatch of customer newsletters via the integrated Leadz® Sales Communicator – with the Leadz® Customer Portal, Henkel has been able to intensify its support while at the same time saving costs and time.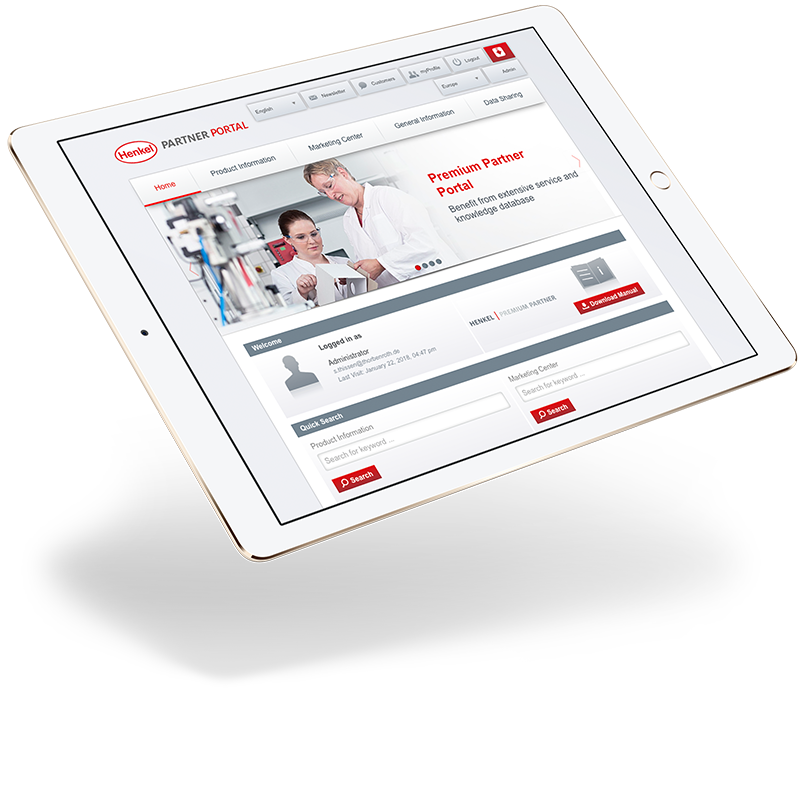 Interested? Questions Cost Nothing.
If you have a specific interest in our solutions and want to know more details, we recommend a personal call or an online presentation.
If you would like to present the topic internally in advance, we will gladly send you our Leadz® information brochure or presentation.
We look forward to your inquiry!