All-in-one solution.
A flexible all-rounder for your marketing.
With Leadz Core, you control your lead and portal management on a central platform with the full scope of a powerful lead management and customer activation tool.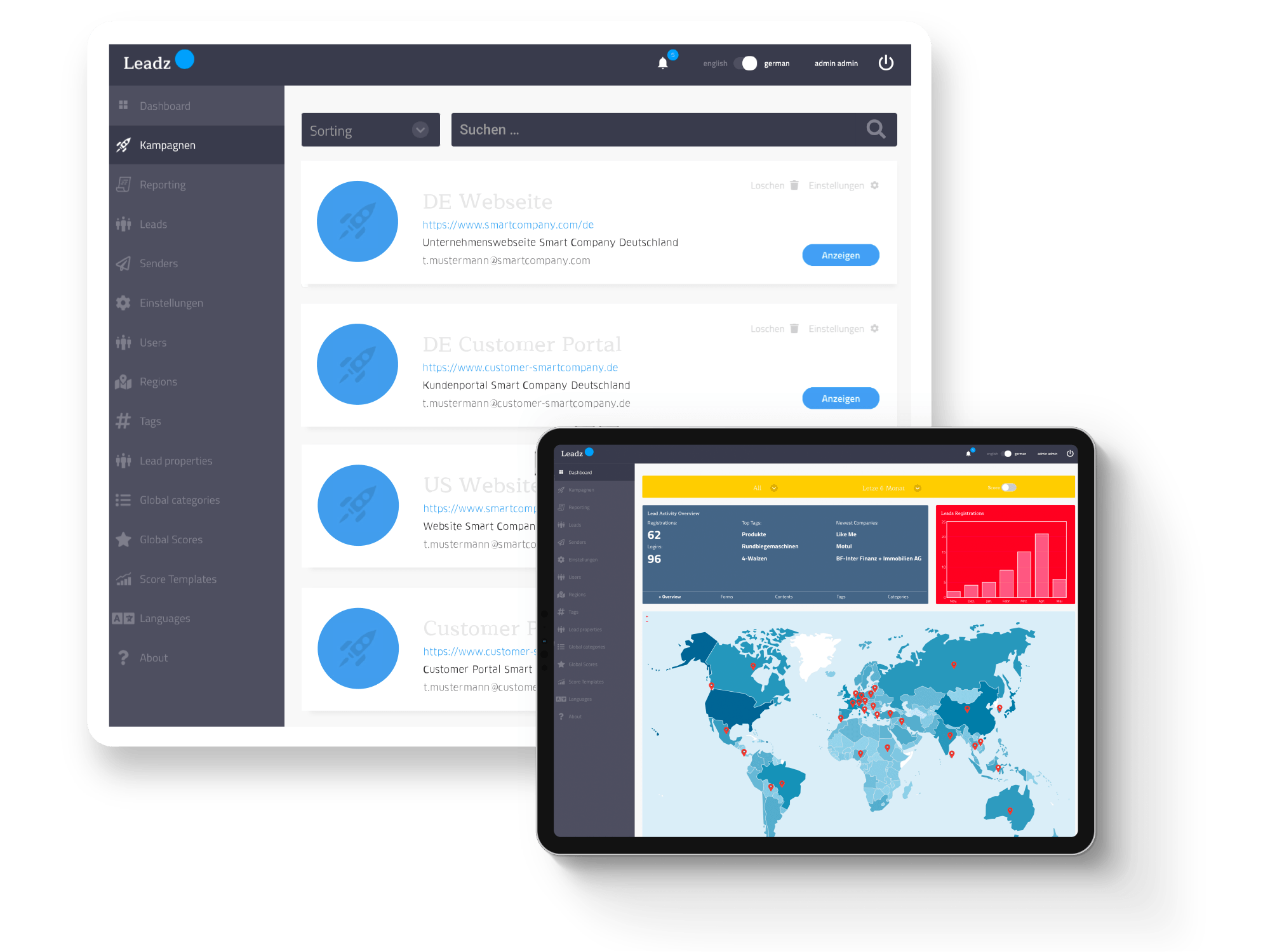 One system for your entire web landscape.
With Leadz Core you control and manage all your portal solutions and lead management campaigns of your websites in one central system. The scalability enables the management of an almost unlimited number of platform-independent portals and lead management campaigns. In this way, you can also easily integrate your international marketing into your marketing-side lead and customer management.
Lead Management
Campaigns.
Leadz Core manages all registration and login processes of your lead generation campaigns, performs automatic profiling and qualification and offers you a wide range of options for campaign automation.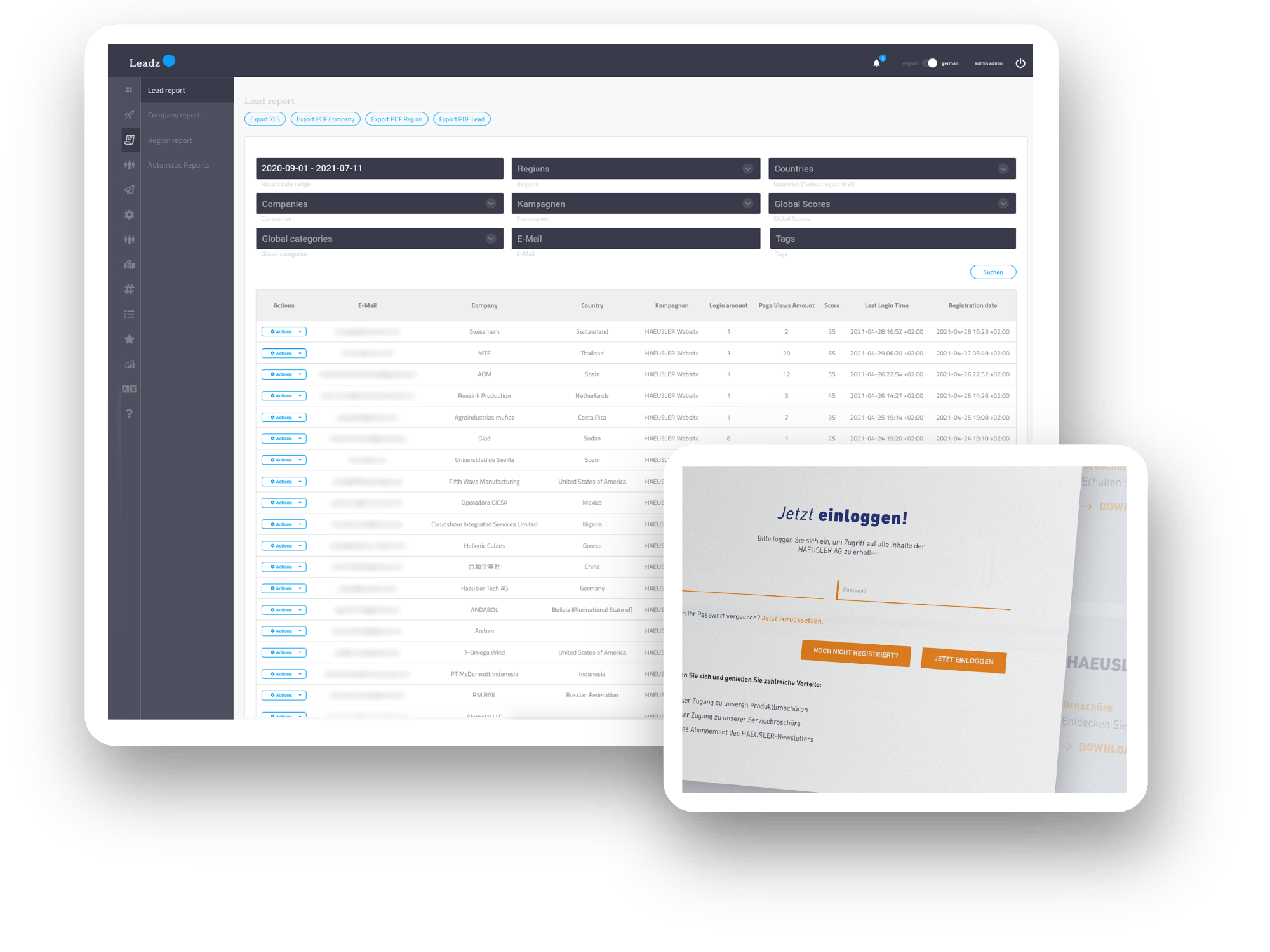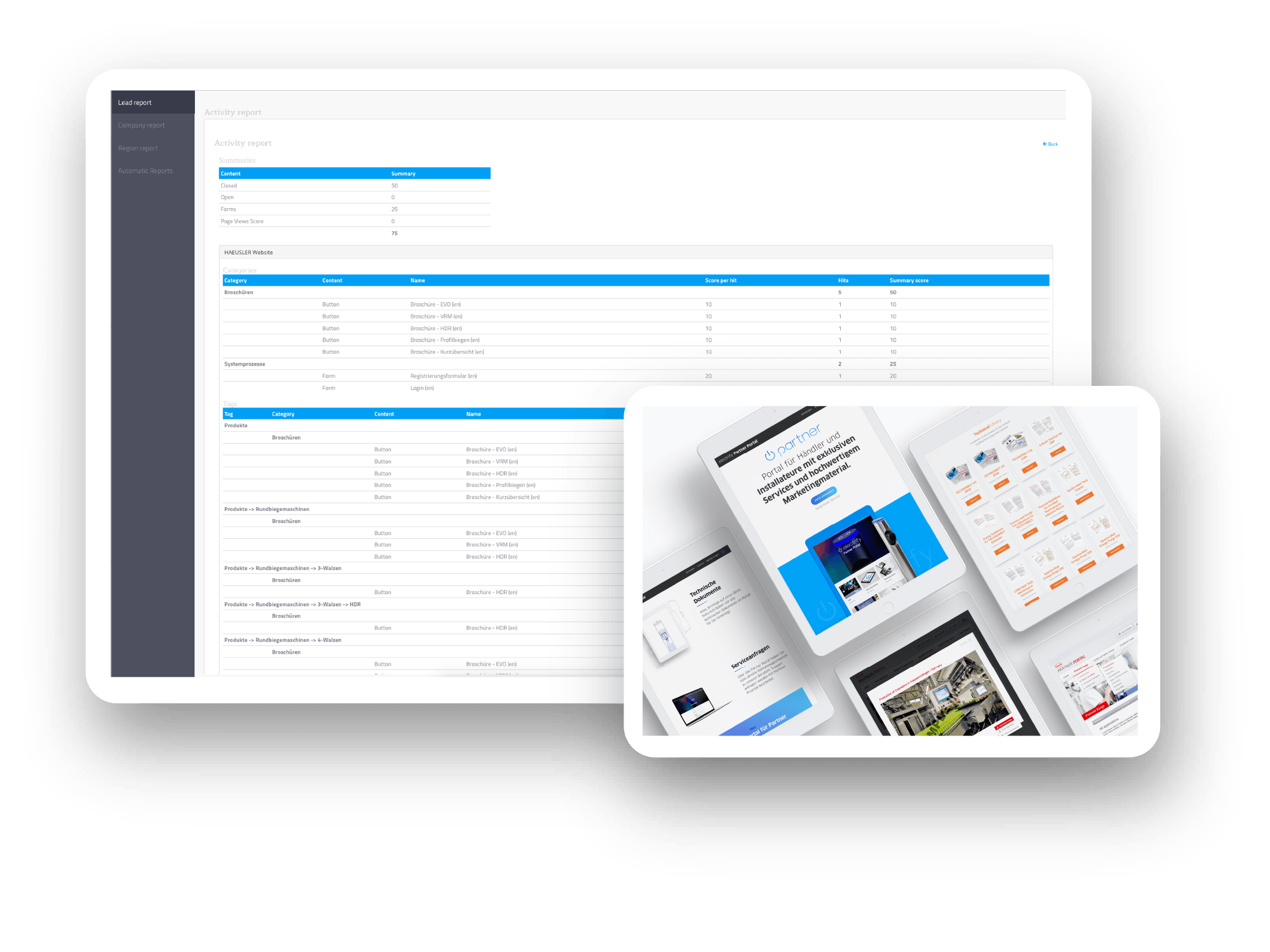 Customer and dealer portals.
Leadz Core controls the registration and access of your closed customer areas, performs detailed user evaluations and thus enables personalised and automated customer communication to increase customer and dealer service as well as cross- and after sales.
Mailing API:
Leadz Communicator.
With the Leadz Communicator you can link lead management and portals with intelligent, personalised newsletter marketing. Adapt your newsletter marketing to the structure of your company. Send out sender-personalised mailing campaigns with a high degree of automation. Increase the targeting of your newsletter marketing.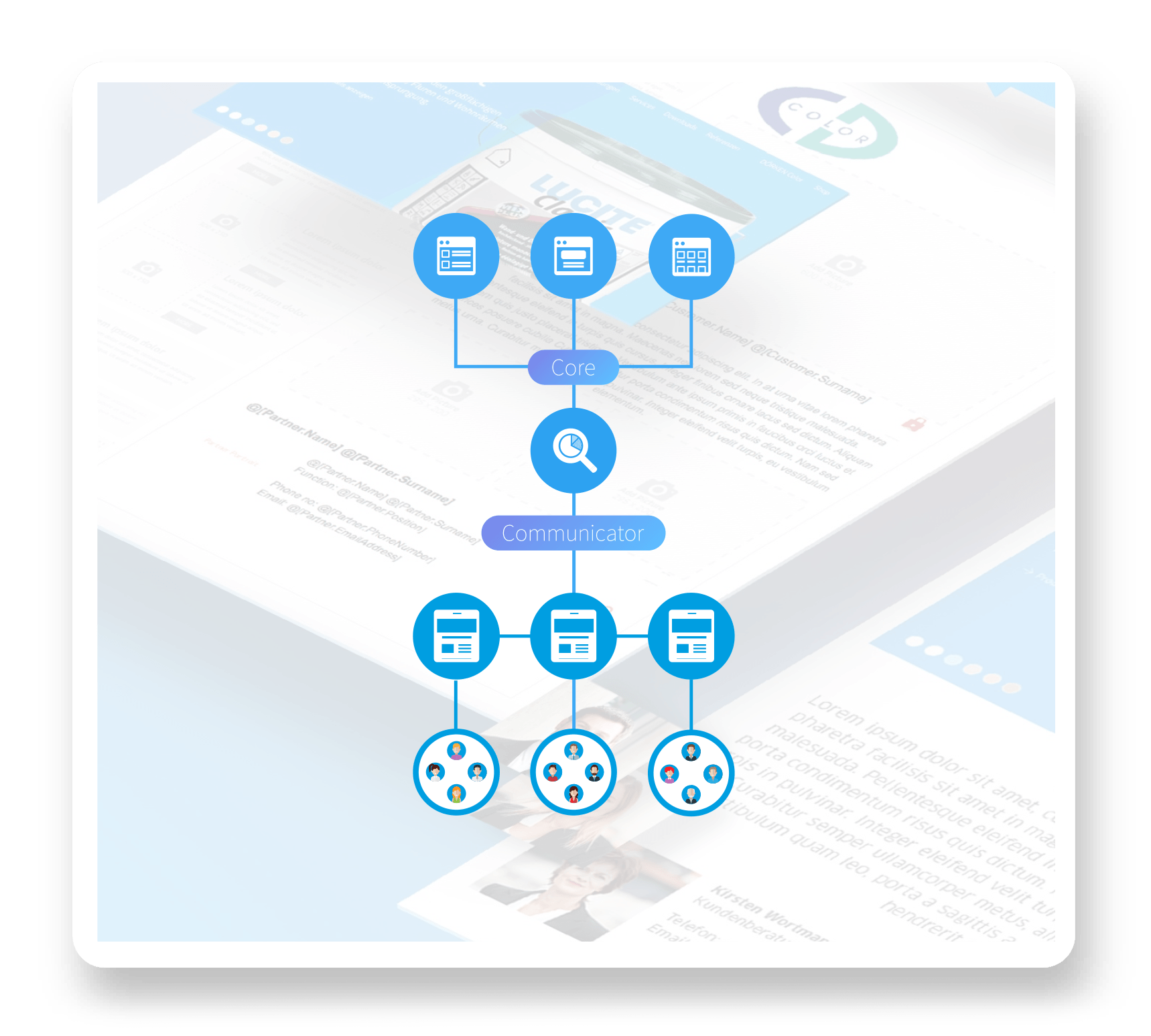 Now without obligation

and test it for free
And don't worry. After 3 months, Leadz does NOT automatically become a payment system. We will first have a consultation and then you decide whether you want to continue or not.
More effective marketing.
The Leadz Solutions Portfolio.
Discover Leadz's smart solutions and concepts that help you better reach, identify and serve your target audience.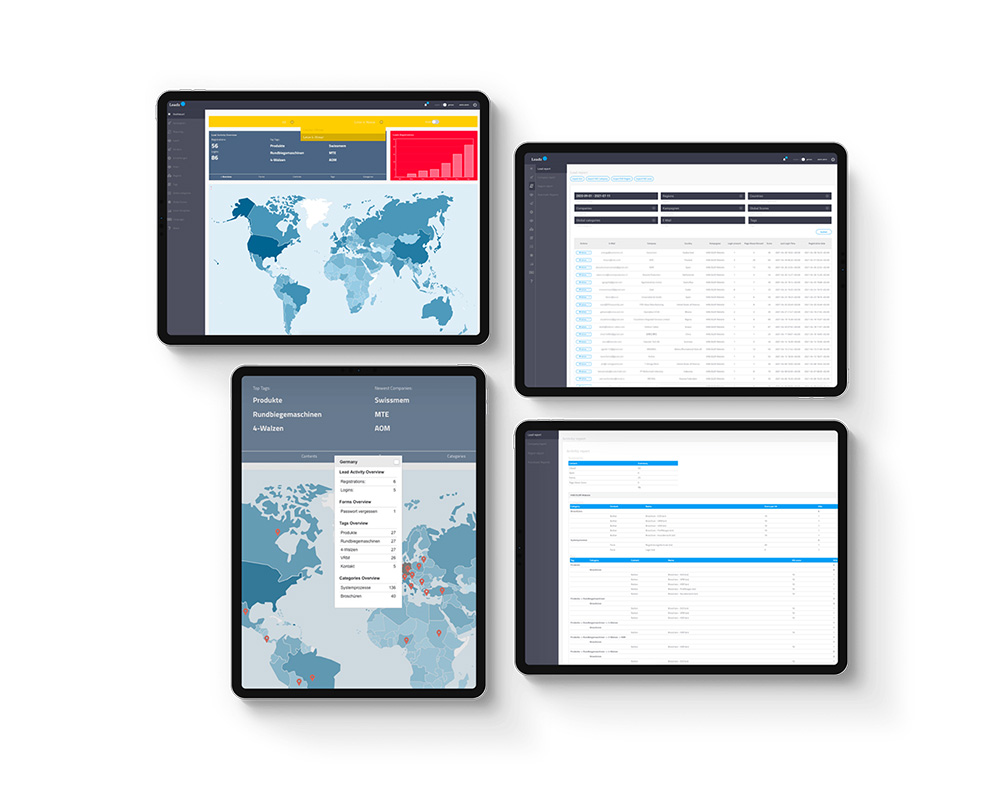 Leadz Core.

Lead Management Software.
With Leadz Core you can experience how simple and effective lead management can be. Fast onboarding, high data quality, customisation to your business model and a lot of marketing automation with low resource usage make Leadz Core a valuable marketing assistant.
Customer and Distributor Portals.

Customer Service Digitisation.
By providing portal solutions for your customers and traders, you reduce manual processes, increase the quality of your service and invest in long-term customer loyalty.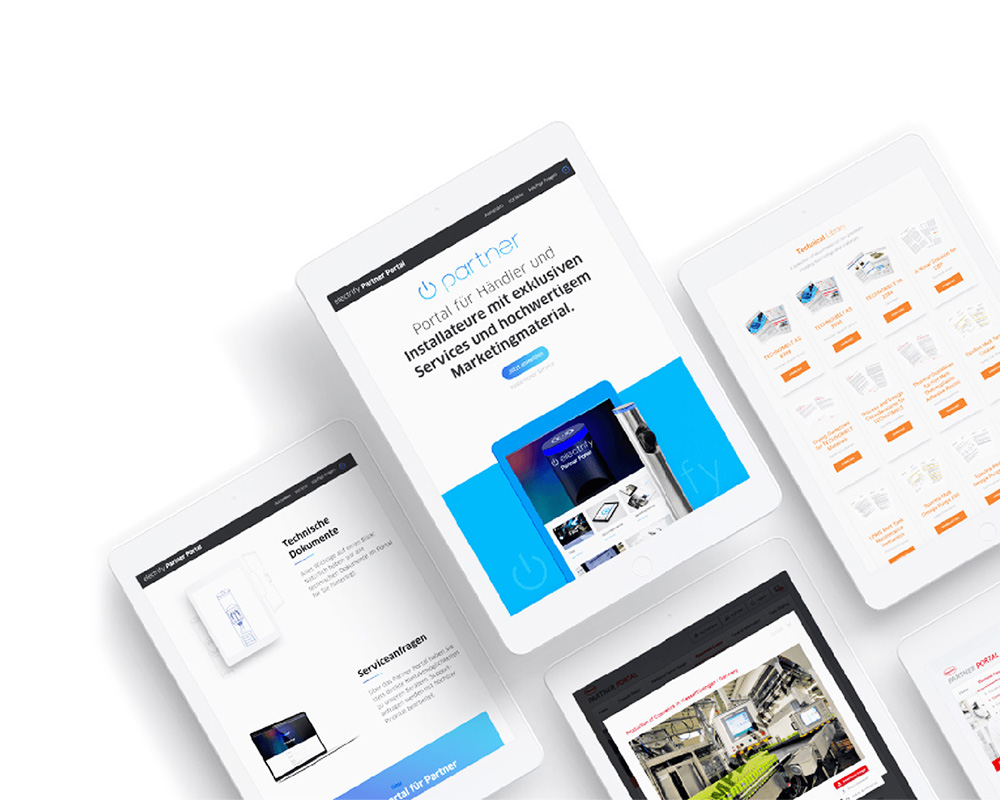 Leadz Communicator.

Newsletter Marketing.
Take a new approach to newsletter marketing. Combine classic newsletter marketing with the development of company-wide newsletter networks. Integrate your sales department into your newsletter marketing. Send out sender-personalised mailing campaigns with a high degree of automation. Increase the operational effectiveness of your newsletter marketing.
Strategy session with a Leadz expert.
Profit from our free consultation.
Discover the potential of Leadz Core as a central control element for your web and portal solutions during a free 30-minute consultation with a Leadz expert.
Call:
+49 (0) 2064 4765-0