Together you reach your goal faster. This also applies to newsletter marketing. Build up a newsletter network in your company and benefit from a newsletter engine that is perfectly balanced to your company structure and offers high performance.
Features & Functions.
Take your newsletter marketing to the next level.
Collaboration and networks.
Transform your newsletter marketing into effective lead contact communication.
Use Leadz® Communicators and its innovative multi-level architecture to set up individual newsletter networks for your company. In just a few steps, you will be able to actively or passively integrate all instances of your company that need to communicate with the outside world into your company's newsletter marketing.
With Leadz Communicator, you can easily set up a company-wide newsletter marketing system in which even your external partners can participate.
The heart of Leadz Communicator is the multi-level structure. This means that you have two processing levels at your disposal: In the first level, the editor mode, you can set up newsletters and then pass them on to network participants for editing or edit them on your own. In the second level, the Publisher level, you can prepare your own newsletter for dispatch or invite participants to take part in your mailing campaign. Participants can now individualise your mailing campaign, but also have the option of creating and sending their own mailings. The mailing is then sent to the specific distribution list of the participating instance.
Personalisation.
Increase the success of your mailings with more effective personalisation options.
Due to the high volume of newsletters, it is becoming increasingly difficult to reach, convince and activate your recipients. Therefore, Leadz Communicator offers you numerous possibilities for individualisation and personalisation, which enable you to establish a tailor-made communication with your recipients. Your mailings are no longer seen as newsletters, but as a personal communication by employees of your company.
With Leadz Communicator you can personalise your newsletters down to the customer contact level. This leads to a significant increase in the opening rates and acceptance of your mailings.
Turn your mailing campaign into a consistently individual customer communication with just one click. Increase open and click rates, increase the acceptance of your mailings and improve customer communication at the same time. With Leadz® Communicator, you can easily personalise mailings down to the contact person-customer level – completely automatically. You always have full control over which recipient should receive a mailing from which sender.
With the smart role function, you send newsletters on behalf of your colleagues.
Sending newsletters personalised to the sender does not mean that your colleagues have to send the mailings themselves. With Leadz Communicator you have two easy ways to send personalised mailings on behalf of your colleagues.
Sender roles: You can add multiple sender personas to your own account and flexibly personalise your mailings.
Account access: As the owner, access the sender accounts of your mailing network, for example the sales department. Send personalised mailings in the name of the sales department or individual sales staff to their customers.
Digital collaboration: Invite your network to your campaigns and increase the customer focus of your mailings.
With Leadz Communicator, you can set up company-wide mailing networks. The inclusion of external entities, such as sales partners, is also possible with simple means – and fully DSGVO-compliant. This gives you the opportunity to share your mailing campaigns with the participants in your network. All participants can accept your campaigns, process them, individualise them and send them to your customer groups. For you, this means a stronger individualisation of your campaigns as well as a much higher reach.
High degree of automation.
Send better mailing campaigns faster.
Carrying out highly sender-personalised mailing communication either requires the use of complex CRM software or will inevitably lead to increased labour input due to the numerous manual steps involved. This is exactly where Leadz Communicator comes in. A mailing system with the strength of a CRM and a correspondingly high degree of automation when it comes to personalising systemised customer communication.
Automated versioning and personalisation
Once your individual mailing setup is set up in Leadz Communicator, you can operate with a high degree of automation. In particular, the smart structure of Leadz Communicator makes sender personalisation child's play. You are able to version a mailing with just a few clicks and send each version automatically or transfer it to a network participant for further processing. The core of this function is the intelligent architecture of the system, with which you are able to reproduce your individual communication structures on the system side. In addition, the system can be connected to your CRM if it already has a customer-contact assignment.
Automated branding adjustment
Another advantage is the automated branding customisation. Send mailing campaigns with personalisation components of your campaign participants, e.g. the sub-logo of a business division. The designs of external partner companies, for example distribution partners connected to your newsletter network, are also automatically added to the versioned newsletters.
Lead Management.
Extend your newsletter marketing with campaign automation and lead management.
Combine the personalised mailing marketing of Leadz Communicator with the effective lead management and campaign automation features of Leadz® Core. Leadz Core provides your organisation with a powerful yet streamlined lead management platform with the tools and features you need for targeted and economical lead management.
In combination with Leadz Core, you can build intelligent automated email workflows to provide your leads with the information that is most relevant to them. Build complex workflows quickly and easily with the visual workflow builder. Use the drag & drop builder of Leadz Communicator to equip your workflows with individual templates. Access the distribution structure you created in Leadz Communicator to send your workflows 100% personalised to the sender.
Leadz Core helps you increase your website's lead and contact generation rates, building a digital contact database in no time. From registration to lead reporting, Leadz Core manages and evaluates your incoming leads with a high level of extreme automation.
Mailing-Handling.
Benefit from simple processes and processing steps for your processing steps for your mailing campaigns
Giving you a powerful mailing system that is smarter and offers you more possibilities than current newsletter systems was only one of the goals in the development of Leadz Communicator. The second and equally important goal was to make working with the system as easy as possible, despite, or even because of, the versatility of the application. Therefore, all kinds of automatisms take over the work in the background. And where you are needed, the system is very functional and therefore easy to use. For example, in the drag-and-drop editor
With Leadz Communicator you can easily set up company-wide newsletter networks. To do this, you place the desired participants in your subscriber list. Each subscriber then receives their own publisher account with which they can be invited to your campaigns or create their own campaigns.
In Leadz Communicator you build up mailing campaigns step by step and are thus taken by the hand. Whether it's selecting the campaign participants and the senders or building the mailing and then sending it out – the step-by-step sequence of activities helps you to think of all the points and thus make your campaigns better.
Drag-and-Drop Newsletter Setup
The drag-and-drop editor makes it child's play for you to set up your newsletter campaigns. You need neither programming knowledge nor multiple training sessions. All you have to do is drag the desired layout modules into the newsletter field and build up your newsletter bit by bit. Alternatively, you can upload ready-made html newsletters into the system.
Share or close content. Editing restrictions.
You are working on a campaign and would like only certain contents of the mailing to be edited by participants? No problem – with the "Lock Up" function you can block selected content for further processing. This way you always have control over which content is forwarded to the customer.
Sender selection. If you want it to be personalised.
With just a few clicks, you and all other campaign participants can personalise your mailings. All you have to do is select the senders and assign the desired sender lists. When sending, Leadz Communicator automatically versions the mailings and assigns recipients to each sender. Each participant can create as many senders and mailing lists as they wish in their account.
Send mailing Immediately or later
Numerous useful functions await you in campaign launch mode: 1 – Display of test recipients 2 – Test dispatch 3 – Overview of senders and assigned recipients 4 – Overview of attachments 5 – Save newsletter as draft 6 – Preview of your newsletter campaign 7 – Dispatch scheduling: date and time 8 – Dispatch button for immediate dispatch of your newsletter campaign
Library. Reuse newsletter.
Over time, your newsletter library continues to grow – and so does your selection of ready-made newsletters. By using archived newsletters or parts of them, you can efficiently reduce the time needed for further processing. Furthermore, the dispatch statistics are displayed in the library: This way you can always see which newsletters were particularly successful and can use them again.
Mailing lists.
Flexible handling of your mailing lists
The innovative handling of mailing lists in Leadz® Communicator ensures the versatile use of the system, whether for simple one-dimensional newsletter campaigns or in collaboration mode involving several campaign participants.
Leadz Communicator is designed to allow you to build a company-wide mailing network with multiple participating instances. And this also applies to your mailing list handling. To prevent participants from getting in each other's way, the instances are clearly separated from each other so that each participant can only access their own mailing lists. This enables you to set up a DSGVO-compliant newsletter network within a company, even with the involvement of external partners.
Simplest mailing list management: Use the convenient management functions of Leadz Communicator. Import entire mailing lists including the assignment of personal contacts to customers via import or with an interface to Leadz Core. Manage your mailing lists and contacts. Assign single or multiple mailing lists to your individual contacts. The entire handling of your mail contacts and leads is designed for lean operational processing.
As a super user, you have access to selected participants in your mailing network. There you can manage mailing lists and senders or even send mailings on behalf of others.
The advantages.
You profit from this.
Create clever mailing networks and let the entire company participate in newsletter marketing.
Include departments, branches and partners in your newsletter campaigns.
Store your sales structure and send mailings automatically at employee-customer level.
Create different sender personas and send mailings in their name
Build mailings on your own with a drag & drop editor
Simple setup and
interface capability
Automated newsletter workflows in connection with Leadz Core
Measure performance for each individual campaign
Enthusiastic.
Get to know the numerous application possibilities.
Leadz Communicator is unique and extremely versatile due to its multi-level architecture. This is why the application is predestined for use in different industries, each with their own needs, and enables completely new types of newsletter setups here.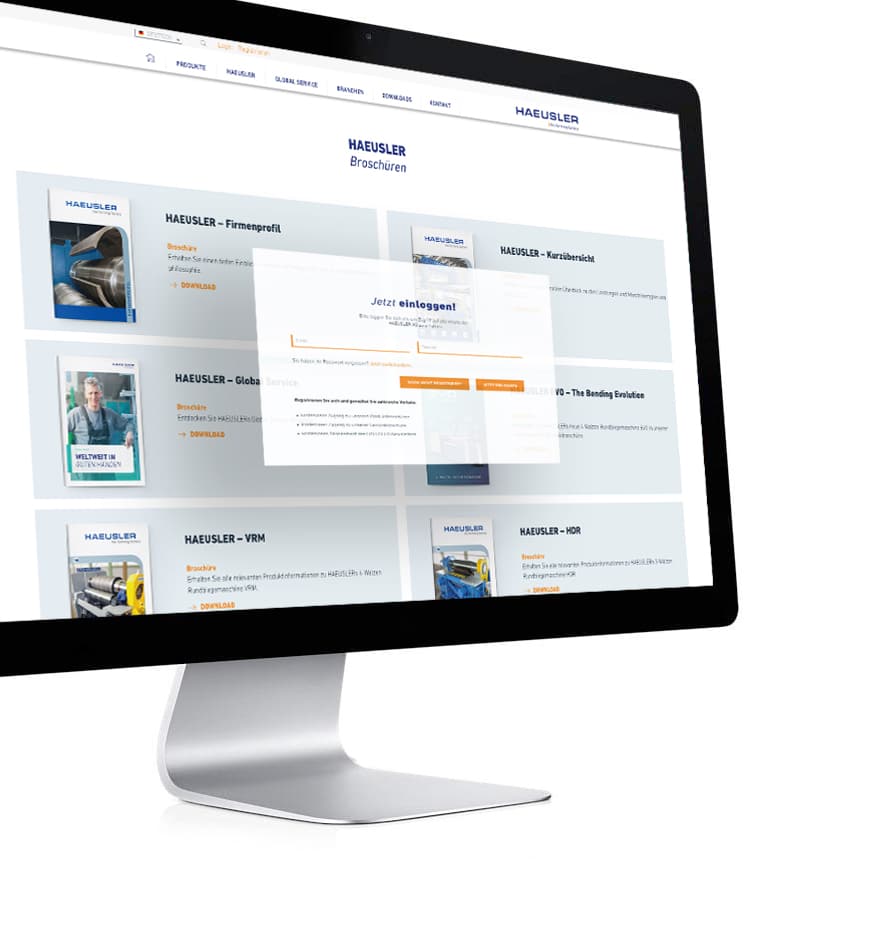 B2B & Industrie.

Ihr Newsletter-Maßanzug.
Use Leadz Communicator to create a mailing setup for your company
that can be adapted exactly to your requirements and structures. In this way, you can set up
a smart and network-based newsletter marketing, with
which you can act far more effectively.
Now without obligation

and test it for free
And don't worry. After 3 months, Leadz does NOT automatically become a payment system. We will first have a consultation and then you decide whether you want to continue or not.
Turnkey.
This is what you get.
Unlimited newlsetter campaigns per month
5 instances per account
Full range of functions Leadz Communicator
5000 newsletters per month
Features
Features
DSGVO compliant multi-level newsletter system
Flexible network architecture with campaign collaboration
Drag & Drop newsletter creator
Instance manager
Role function
Automatic sender personalisation
Automatic branding
Mailing list management
Mailing list import
Auto-Unsubscribe
Statistics
Mailing library
External partner integration
DOI registration processes in connection with Leadz Core
More…
Mailing Marketing
Leadz Communicator
Plus setup costs and fees for additional newsletters according to scale prices.
Marketing Automation & Lead Mgmt.
Leadz Communicator and Leadz Core
Link the personalised mailing marketing of Leadz Communicator with the effective lead management and campaign automation functions of Leadz® Core
Mehr effektives Marketing.
Das Leadz Lösungsportfolio.
Entdecken Sie die smarten Lösungen und Konzepte von Leadz, die Ihnen dabei helfen, Ihre Zielgruppe besser erreichen, zu identifizieren und bedienen zu können.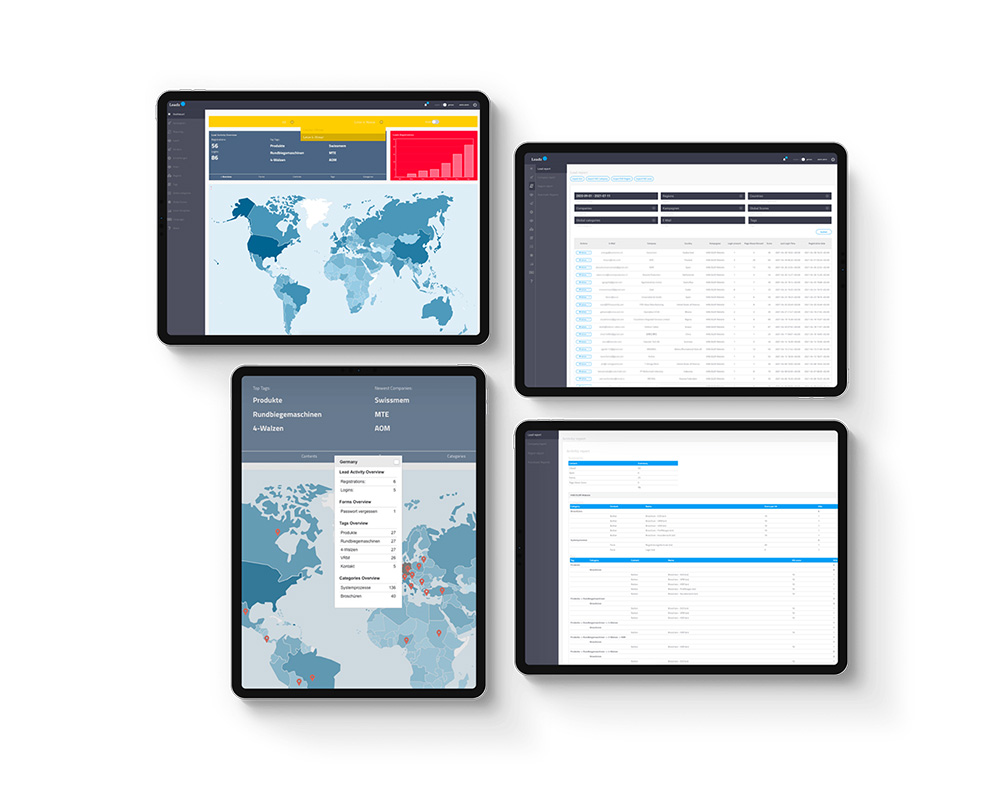 Leadz Core.

Lead Management Software.
Mit Leadz Core erleben Sie, wie einfach und effektiv Lead Management sein kann. Schnelles Onboarding, hohe Datenqualität, Anpassung auf Ihr Geschäftsmodell und viel Marketing Automation bei geringem Ressourceneinsatz machen Leadz Core zu einem wertvollen Marketingassistenten.
Leadz® Market Maker.
The ultimate Content Marketing Tool.
What content is relevant for the target group? Which topics are working best on the web right now? How does your ranking compare to competitors? The Leadz® Market Maker is the ultimate content marketing tool to systematically and sustainably improve your own relevance.
Contact us.
Become part of the Leadz family.
Does our newsletter marketing approach suit you? We would be happy to show you what newsletter potential your company has and how you can use it with Leadz Communicator.
Simply give us a call, make an appointment with our sales team or get started and order a free trial version directly.
Call:
+49 (0) 2064 4765-0